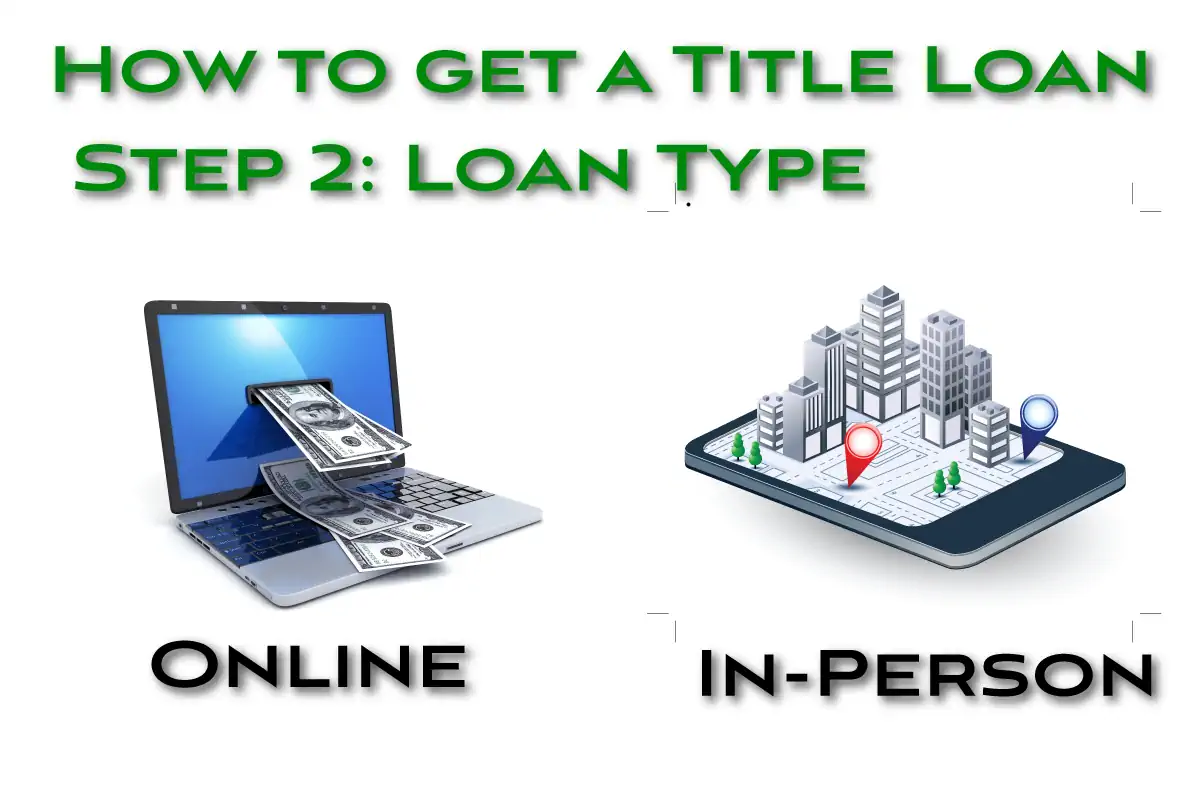 The next step, once you've completed preparation step 1, is to determine what type of title loan makes most sense for your situation. There are numerous different types available today. This includes, at a high-level, in person loans, online title loans, and hybrid online title loans.
In-Person Title Loans
An in-person title loan may be the best choice if have a title lender near you that offers reasonable rates and terms. There are a number of benefits to getting a title loan in-person. The main one is you can complete the entire process very fast, in 30 minutes in many cases, and be done with getting the loan.
Online title loans, on the other hand, can take a day or two to fund depending on what title loan company you decide to deal with.
Another difference with an in-person title loan is the vehicle appraisal. The lender will physically see your vehicle, so, depending on your situation, this may be good or bad. In some cases this can result in a higher value assigned to your vehicle compared to an online loan. If you need to borrow the max, this may be a significant benefit.
Online Title Loans
There are several types of online title loans that we cover on our site. These include completely online, with and without inspection, etc. We won't go into details of each different type but will note that, just like in-person loans, online title loans also have benefits.
Then, within the online loans category there are several different types. These include:
Completely online title loans – this type of online title loan, as the name implies, can be completed 100% online. This means you do not need to visit a store during any part of the process.
Instant Online Title Loans – this is just another name for a fast online title loan. Completing the preparation defined in step 1 will help make sure your online title loan is completed and funded as fast as possible.
Online Title Loans with no Phone Calls – some borrowers prefer to complete an online title loan without having to talk to anyone on the phone. This is certainly possible, although it is important to mention that a quick phone call can help speed up the process.
Online Title Loan with no Inspection – Some online title loans require a physical vehicle inspection. This can be completed by the lender or a third party. In some cases the lender will come to your location to complete the inspection. If you prefer a title loan without an inspection these loans are available.
Hybrid Online Title Loans
Finally we have hybrid online title loans. These are more common in states that require either an in-person vehicle appraisal or a physical signature on the loan agreement. There are a couple of way to complete a hybrid online title loan:
Visit th lender to finalize the loan
The lender can visit your location if you prefer
Not all lenders offer the option of coming to your location, but many do. This means you can still get a title loan online without leaving your home, although you will have to show the vehicle and have it present. This option would not work for those looking for a title loan without the car.
Move to Step 3
Once you've decided on the type of loan (or had the type dictated by state regulations, you are ready to move to Step 3.